Preseason predictions

Kobe Bryant knows playing the Blazers will be a big challenge.
wav: 75 k
Real: 14.4 | 28.8 | 56.6 Scottie Pippen vs. Phil Jackson

Scottie Pippen says he's going to in enjoy playing against the Lakers.
wav: 141 k Real: 14.4 | 28.8 | 56.6
Glen Rice and the Lakers KO'd the Suns.

Lakers close out
Suns in L.A. style
Unlike when things got dicey in Round 1, the Lakers responded to the challenge immediately in Round 2. L.A. limited the Suns to an NBA playoff-record low 23 first-half points Tuesday, cruising into a West finals matchup with Portland
by crushing Phoenix
87-65.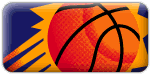 Roster
Playoff Stats
Season Results
Playoff History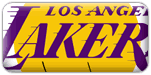 Roster
Playoff Stats
Season Results
Playoff History
FEATURES
Animated Suns playbook
Animated Lakers playbook
Series breakdown
Message Board
GAME INFORMATION
Sun, May 7
Lakers 105, Suns 77
Recap
|
Box score
Wed., May 10
Lakers 97, Suns 96
Recap
|
Box score
Fri., May 12
Lakers 105, Suns 99
Recap
|
Box score
Sun., May 14
Suns 117, Lakers 98
Recap
|
Box score
Tue., May 16
Lakers 87, Suns 65
Recap
|
Box score