Miller minds sitting out

Reggie Miller wanted to make an impact after missing Game 5.
wav: 166 k
Real: 14.4 | 28.8 | 56.6 Sixers drop Game 6

Allen Iverson just can't get past the Pacers.
wav: 112 k Real: 14.4 | 28.8 | 56.6
Reggie Miller scored 25 for the Pacers.

Pacers in third
straight East finals
Maybe the third time will be the charm for the Pacers. After
eliminating the 76ers
with a 106-90 victory in Game 6 on Friday, Indiana is in the East finals for the third straight year. The Pacers lost to the Bulls and Knicks the past two years, and await New York or Miami.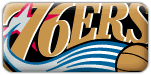 Roster
Playoff Stats
Season Results
Playoff History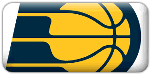 Roster
Playoff Stats
Season Results
Playoff History
FEATURES
Playbook: Jalen Rose
Playbook: Options for Iverson
Playbook: Defending Iverson
Series breakdown
Message Board
GAME INFORMATION
Sat, May 6
Pacers 108, 76ers 91
Recap
|
Box score
Mon., May 8
Pacers 103, 76ers 97
Recap
|
Box score
Wed., May 10
Pacers 97, 76ers 89
Recap
|
Box score
Sat., May 13
76ers 92, Pacers 90
Recap
|
Box score
Mon., May 15
76ers 107, Pacers 86
Recap
|
Box score
Fri., May 19
Pacers 106, 76ers 90
Recap
|
Box score