Sampras gets lucky 13th
Pete Sampras didn't let anything rain on his day of infamy Sunday. After several rain delays, Sampras defeated Patrick Rafter 6-7 (10-12), 7-6 (7-5), 6-4, 6-2 for his record seventh Wimbledon singles title and 13th Grand Slam win.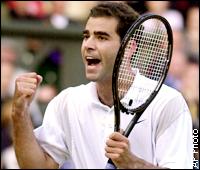 Pete Sampras beat Patrick Rafter, rain and looming darkness for his record-breaking title.