Big time ups

Kobe Bryant explains his ally-oop to Shaq.
wav: 70 k
Real: 14.4 | 28.8 | 56.6 Fourth quarter cowards

Scottie Pippen is disappointed with the Blazers' fourth quarter.
wav: 120 k Real: 14.4 | 28.8 | 56.6
Kobe Bryant scored 25 points Sunday.

Lakers pull it out; Pacers up next
They were down by 15 points. In the second half. With a fresh memory of two straight losses. But the Lakers didn't panic Sunday, and the result was a torrid fourth-quarter comeback that
defeated Portland 89-84
in a dramatic Game 7 of the Western Conference finals. Next up? The Pacers in the Finals.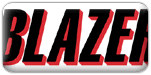 Roster
Playoff Stats
Season Results
Playoff History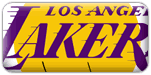 Roster
Playoff Stats
Season Results
Playoff History
FEATURES
Dr. Jack's series breakdown
Playbook: Pippen
Playbook: Stoudamire
Playbook: Wallace
Message Board
GAME INFORMATION
Sat., May 20
Lakers 109, Blazers 94
Recap
|
Box score
Mon., May 22
Blazers 106, Lakers 77
Recap
|
Box score
Fri., May 26
Lakers 93, Blazers 91
Recap
|
Box score
Sun., May 28
Lakers 103, Blazers 91
Recap
|
Box score
Tue., May 30
Blazers 96, Lakers 88
Recap
|
Box score
Fri., June 2
Blazers 103, Lakers 93
Recap
|
Box score
Sun., June 4
Lakers 89, Blazers 84
Recap
|
Box score