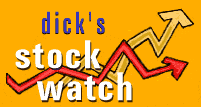 Bucks bounced, see stock fall
By Dick VitaleSPECIAL TO ESPN.COM


April 22
Dick's Stock Watch identifies whose stock is up and whose is down over the past week across the world of sports.

STOCK UP: Harrington, Peppers, Big Unit, Pedro
Joey Harrington: After not being sure where he would go in the first round of the NFL draft, Harrington was selected No. 3 by the Detroit Lions. I love Harrington's charisma and confidence. The Oregon quarterback is a winner, and I believe Detroit fans will love him.

Julius Peppers: I've seen Peppers' up close on the basketball court, so I know all about his tremendous athleticism. The Carolina Panthers made him the overall No. 2 pick in the draft. The North Carolina defensive end has great agility, quickness and strength and should be an impact performer for the Panthers.

Randy Johnson: Are you kidding me? The Big Unit is virtually unhittable -- he gave up only two hits and struck out 17 in the Arizona Diamondbacks' 7-1 victory over the Colorado Rockies on Sunday. Johnson is 5-0, the most wins in the majors, baby!

Pedro Martinez: Everybody said the Boston Red Sox ace had trouble with his arm early this season. Ask the Kansas City Royals about that -- Pedro gave up one hit in eight innings, striking out six and walking none, in Boston's 4-0 victory Friday.

Jerry Royster: The interim manager for the Milwaukee Brewers should retire right now! He's 4-0 since taking over for Davey Lopes.

STOCK DOWN: Bucks, Rocker, Red Wings
Milwaukee Bucks: It's hard to believe that Ray Allen, Glenn Robinson and Sam Cassell are out of the NBA playoffs. Last year, they were one win away from the NBA Finals.

John Rocker: The Texas Rangers' reliever was sent down to the minors again -- just as he was last season when he was with the Atlanta Braves. The Rangers need Rocker to regain his form. No matter how many runs their high-powered offense scores, you can't win games if you don't get the other guys out.

Detroit Red Wings: The Red Wings are on the cover of the current ESPN The Magazine, with writer Mitch Albom saying they have the greatest roster ever assembled in NHL history. But even after their 3-1 victory Sunday night over the Vancouver Canucks, Detroit is still down 2-1 in the series -- and two games away from being eliminated by the West's No. 8 seed.
Send this story to a friend | Most sent stories