Aussie, Aussie, Aussie
Defending champion Andre Agassi makes winning look easy. Agassi took home his third Australian Open title and seventh Grand Slam trophy Sunday. Agassi quickly defeated Frenchman Arnaud Clement 6-4, 6-2, 6-2.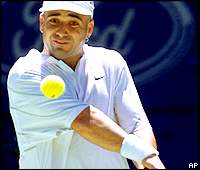 American Andre Agassi is only the second man to have won three Aussie titles in the Open era.